What is the future of Canadian Television?
August 19, 2022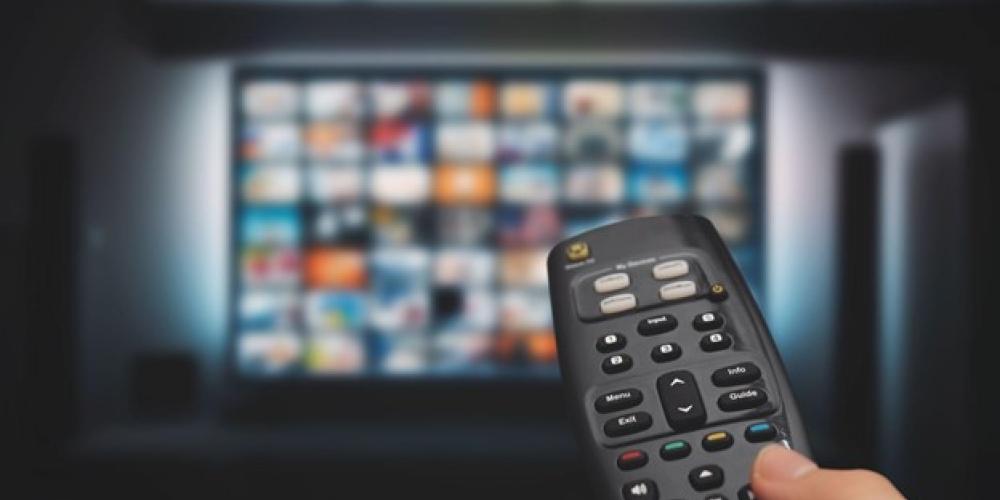 THE FUTURE OF LIVE TELEVISION
The amount of time spent watching television within Canada is only increasing. Canadians as young as 18 years old are contributing to the overall television watch time in, viewing just under the same amount of television as Canadians aged fifty-five and up.
Although OTT (over-the-top) media is growing at an exponential rate, traditional television is exceeding the number of OTT viewers, especially during the COVID-19 pandemic.
What is television viewership projected to look like in the near future? Will it continue to grow or become obsolete? Will digitalization eventually take over the television sector? This article will cover the trends of live television in a digitalized world and explain predictions for live television in the future.
TV VIEWERSHIP AND AGE DEMOGRAPHIC
Canadians, for the most part, are still loyal viewers of live broadcasts. This past year, Canadian individuals have spent less time watching television on digital devices and more time enjoying the live content being fed out through traditional television and streaming services. The 55+ age group are devoting most of their TV viewing to live broadcasts or shows and spend, on average, 40 hours a week watching television. This number is significantly higher than those aged 25-54 which is approximately 15 hours a week, and those aged 18-24, spending an average of 10 hours a week in 2020 (Figure 1).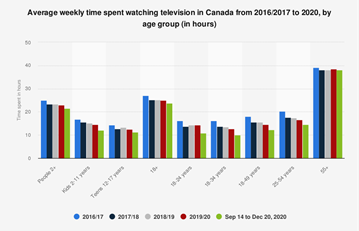 Figure 1. The average weekly time spent watching television in Canada from 2016/17 to 2020, by age group (in hours).
One of the biggest challenges traditional television is facing today is the lack of viewership from millennials. Millennials are quick to learn and adapt to new devices, services, and technologies. That being said, they are looking for the most convenient way of streaming television that works with their schedules because they want it now, or whenever it fits with their lifestyle.
Streaming services provide availability for viewing across multiple devices at any given time. Live TV, on the other hand, has limited amounts of timeslots to watch programs which may interfere with individuals' schedules.
Millennials are constantly picking up new trends and technology. They only want to use services that are suitable for their timetables, are convenient, and require the most limited amount of effort.
That is why major broadcasters are creating unique ways to engage millennials in live events. An example of this is CBS broadcasting NFL games on Nickelodeon.
While broadcasters continue to test ways to engage millennials there is no sign of a drop in viewership for adults 55+ in the foreseeable future.
CANADIAN TV VIEWERSHIP VS. AMERICAN TV VIEWERSHIP
Although almost half of Canada's households don't use cable or satellite, the Canadian video market is significantly more stable than the United States market. One reason being Canadian services, such as Bell and Telus, feature prices closer to the traditional cable pricing.
With the CRTC regulation in effect, satellite and cable television providers in Canada are required to offer basic and inexpensive cable packages with a pick-and-pay system that allows subscribers to choose the channels they want. Another, more prevalent reason being the TV services' integration with sports broadcasts.
Cable TV is still in the lead for overall viewership in the US. In May of 2021, cable TV had the highest audience share at 39%, whereas streaming services had 26% and broadcast TV had 25%.
WHAT ARE VIEWERS WATCHING?
Bell and Rogers are very vertically integrated, especially when it comes to sports. Both Bell and Rogers have ownership of sports franchises, sports broadcasting, and distribution through fixed mobile and wireless channels. That being said, Canada's large telecoms own a vast amount of broadcast content, particularly in sports.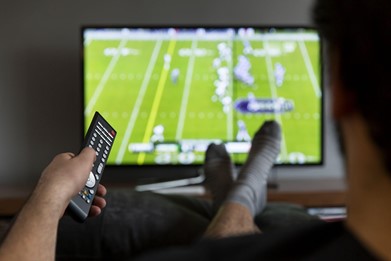 This leads companies to have a greater interest to protect the traditional, linear video subscriber base. Sports is one program keeping a vast amount of viewers from cutting the cord.
TSN regains the top spot for Canadian Specialty stations amongst adults ages 25-54. This shows that A25-54 are still actively engaged with linear television.
Special events that are televised are known to get a great amount of viewership. In 2020, the five most-watched television broadcasts in Canada were the Super Bowl at number one, followed by the Academy Awards, Stronger Together, One World: Together At Home, and The Stanley Cup Qualifying series between Columbus & Toronto. There is a common correlation between special events and sports that draw a large number of individuals to view live television.
THE GROWTH IN OTT COMPARED TO TRADITIONAL TELEVISION
"Over the top" television, better known as OTT television is content delivered to viewers via the internet, therefore bypassing satellite TV, cable TV, or broadcasting platforms. Most commonly known examples of OTT media would be streaming services such as Netflix, Crave, and Disney+. Many assume that with so many streaming options OTT media viewership would dominate live television, but is that really the case?
When the COVID-19 pandemic hit and individuals were advised to stay indoors, the viewership in television began to climb. Within the past year, Canadian TV viewership is up by 20-30% across all channels, specifically in cable news with an increase of 138% from March-May 2020.
Figure 3 displays the projected number of TV households in Canada from 2017-2023 and the results show little to no change. Digital cable TV is projected to stay the same along with paid satellite.
The change happening from 2017-2023 is not big enough to cause an exponential decrease in live television viewership in the near future. Yes, digital is growing and the desire for convenience is increasing, but that doesn't mean live television broadcasts aren't relevant in today's day and age or for the years ahead.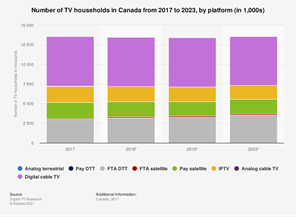 Figure 3. The number of television households in Canada from 2017 to 2023, by platform. Chart accessed from Statista.
Streaming services are changing consumer behavior as a whole as they are no longer just streaming services. Companies, like Netflix, are investing in the production and licensing of globally owned content - thus in direct competition with traditional television services and the video industry.
Digitalization plays a significant role in television viewership and content distribution. With 5G networks and fast fiber-optic networks, media consumption is changing - not to mention the AI and analytics targeting consumers. The rise of social media and digitalization is unavoidable. On-demand television is continuing to gain ground, but traditional, linear TV continues to assert its role in content distribution, especially for sports and major events.
Some may say digitalization is a threat to traditional TV, but rather than thinking of it as a menace, traditional TV continues to adapt to the new forms of viewing content and advertising. Figure 4 shows the predicted numbers of TV viewers in Canada from 2018 to 2022. Television viewership increased from 2018 to 2020, and it is only projected to decrease slightly from 2020 to 2022.
Although streaming services and on-demand television are beginning to grow, there is still a long way to go before OTT television dominates the live television sector.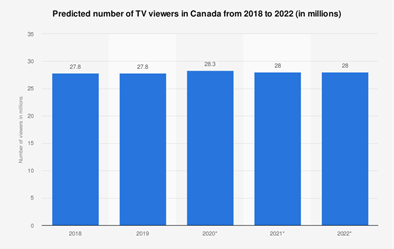 Figure 4. The predicted number of television viewers in Canada from 2018 to 2022 (in millions.) This chart was accessed from Statista.
WHY DTC BRANDS ARE RUSHING TO TELEVISION
It is common for brands to reach a point of diminishing returns on paid social. As a result, DTC brands often turn to offline advertising mediums to help fuel their growth.
Television advertising allows DTC companies to reach new audiences that they may not have been able to reach via digital advertising.
Linear TV's ability to target ads to viewers and measure their performance is continuously improving. Several agencies offer web attribution software that measures the visits and sales driven from TV ads. This allows DTC brands to optimize their TV campaign just like their digital ones.
The addition of a TV advertising budget doesn't mean DTC companies are removing digital advertising from the plan. In fact, a TV campaign will actually help boost their search and social performance. Television ads can increase search performance by up to 25% in the span of ten weeks and will grow the top of the funnel which will improve retargeting performance on paid social.
Having TV advertisements also helps legitimize a DTC brand. A ad placement before or after Coca-Cola or Ford will build brand legitimacy.
For all these reasons it is no wonder DTC brands like Warby Parker, Peloton and Wayfair have become mainstays in the TV advertising ecosystem.
SUMMARY
Digitalization is changing the television market, OTT is beginning to gain more and more viewers and subscribers. However, cable and satellite television are still very much relevant in the industry, especially for live events.
Sports and special events continue to get the highest number of views for live broadcasts and draw a large number of individuals around their TVs.
Millennials are continuing to pick up the quickest and most convenient technology, steering them away from live television, but there is still a long way to go before linear television becomes obsolete.
A50+ are still consuming linear television at the highest viewership level in years and there is no expectation for this to change.
As an agency, our recommendation is to continue to test new mediums like OTT and digital out of home. This way you are able to reach today's fragmented audience wherever they are!