Kingstar Media Recognized on Clutch as a Top Media Buying Agency.
August 22, 2022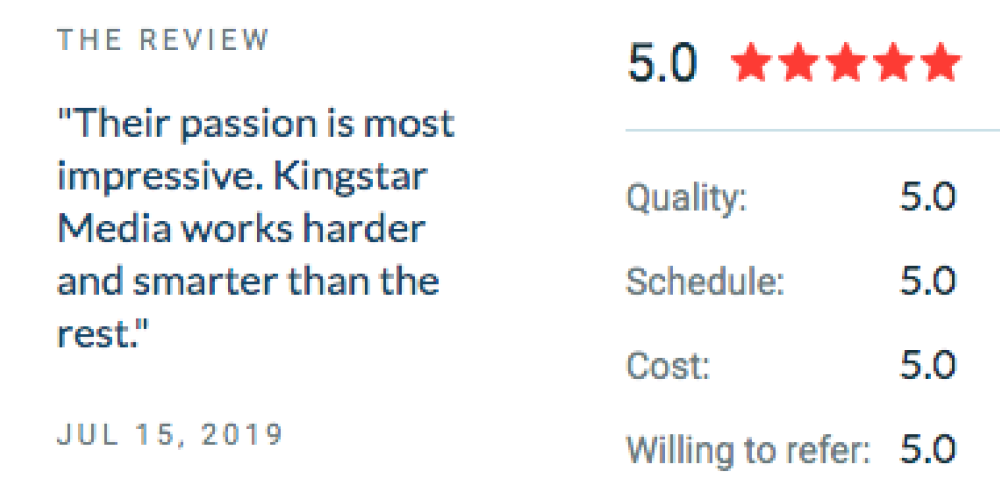 Kingstar Media Recognized on Clutch as a Top Media Buying Agency.
In our increasingly digital age, TV is still a key player when it comes to results-driven advertising. TV ads drive many consumers to search more information online about an advertised product, leading to a 60-to-80 percent jump in brand-related search results.
Our customers understand this, which is why we're thrilled to be chosen for their DRTV and media buying needs.
It's thanks to them that Kingstar Media has been rated as one of the top five media buying agencies in the world on Clutch, a reviews and ratings platform. We're listed as one of the top media buying companies on The Manifest, a B2B buying resource.
We recently received a 5-star review from one of our satisfied customers, Bluewater Media, a US-based media agency. The Bluewater team needed support to run digital campaigns for a third-party client in Canada. We organized their content using DRTV and other digital media.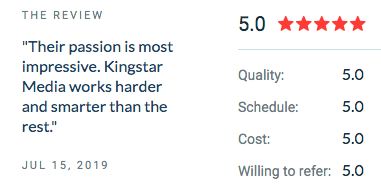 The results have satisfied both Bluewater Media and the client, and we're thrilled to be an ongoing relationship with the team. Our detailed approach and technical knowledge earned us five stars across all categories.
Kingstar Media's access to proprietary media and historical data analytics across all direct to consumer product and service categories makes it the only choice in Canada for marketers focused on ROI, scalability and campaign growth.
Our expanding list of global clients challenge us day in and day out to exceed expectations. We would like to thank them for recognizing us for our reliable results and top-notch customer service.
You can learn more about our work on Clutch's sister site, Visual Objects, a visual case study site. We are happy to offer our customers insight into our previous projects and demonstrate why we are the best company for your business.
If you're ready to jump into the DRTV world and reach a wider audience than ever before, contact us today.